Brandau Power Institute offers a variety of organizational-wide assessments, including the popular Multi-Health Systems Emotional Intelligence assessment and the TTI DISC and Driving Forces or Hidden Motivators assessments. Given to leaders and team members, these assessments help organizations learn and progress into the future at a faster pace.
Part of organizational learning is individual growth and assessments given to employees help them refine team and relationship skills including communication skills and conflict resolution strategies.
Assessments help all layers of management understand how to motivate employees on an individual basis by learning their DISC style and their Driving Forces. This enables managers to customize their communications and interactions to the individual for greater impact and influence.
The Emotional Intelligence portion of the assessment is brilliant in helping all individuals control negative emotions and  reminding them to think before they speak – thus improving interpersonal relationships.
The Talent Insights Assessment includes 2 sciences. The DISC and Driving Forces can be purchased separately however most organizations purchase them together with the Talent Insights assessment.

DISC or Behaviors – the DISC assessment is one of the most popular assessments used in business today. Behavioral research suggests that the most effective people are those who understand themselves, both their strengths and weaknesses, so they can develop strategies to meet the demands of their environment. This report measures the four dimensions of normal behavior: dominance, influence, steadiness and compliance.
The DISC gives individuals, managers and teams insights into personal strengths and limitations and helps them understand each other.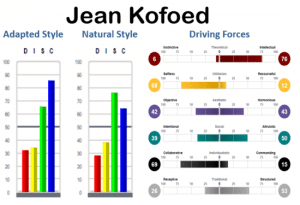 Driving Forces or Hidden Motivators – Knowledge of an individual's driving forces help tell us why a person behaves a certain way. The 12 Driving Forces are divided into Primary Driving Forces, or those that move you when you wake up in the morning, then into Situational Driving Forces, or those that you make choices which way to go as your day progresses and you interact with people, and lastly, into Indifferent Driving Forces you don't care about.  
The Primary cluster – the top four choices of an individual's Driving Forces – tell a story of how a person derives meaning from life and work.
Amazing Insights – Start your understanding of how to work with opposite personalities with our free "Strengths & Cautions Overview" that illustrates why and how personality type identification can benefit your team!
Strengths and Cautions Overview
If you want to be a more charismatic leader, take a Complimentary DISC and Driving Forces Assessment!
Brandau Power Institute is offering individuals a FREE Talents Insights assessment which includes a DISC and Driving Forces or Hidden Motivators.
To get your personal assessment link send an email with your name, company, and phone number to karla@KarlaBrandau.com  or call 770-923-0883. You can also use the form below to communicate with us.
We'd love to speak with you directly. Call 770-923-0883 or fill out the form below and we'll connect very soon.