Understanding Stressors Helps You Diffuse Stress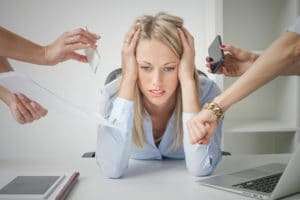 Workplace stress can have a profound effect on productivity and engagement in the organization. When stressful factors are coupled with potentially ineffective stress management, stress can become a problem that extends from the individual, to the team, the entire department and the company.
Every human being experiences stress ranging from sickness and anger to mild displeasure with a new company policy. Identifying the signs of and the root causes of stress within the individual and the organization is the first step in designing a strategy to address the issues and create a more healthy work environment where workers flourish.
Since well-being and productivity are dependent on how individuals deal with stressful experiences, the next step is to encourage workers to study and use stress strategies to diffuse their distress. Strategies involve flexibility to see other viewpoints and courage to discuss difficult topics with coworkers. Other strategies are more tactical and involve planning and organizing work so the pressure of deadlines is not overwhelming.
One way to attack stress in your workplace is to administer stress assessments so each worker has scientific information on the type of stress they are experiencing. Order stress assessments for every employee by calling 770-923-0883.
Learn More About Stress and Interpret Your Stress Assessment With a Program from Brandau Power Institute
In the Data Behind the Dysfunction, you'll discover four signs of stress:
Physical Symptoms such as low energy, aches and pains.
Emotional Symptoms manifest in excessive irritability and moodiness.
Cognitive Symptoms observable in the inability to concentrate and remember things.
Behavioral Symptoms visible in procrastination, eating and sleeping issues.
Schedule a Seven Secrets Workshop/Webinar
Any job can have stressful elements, even if you love what you do. Some stress at work is normal, however excessive stress can obstruct productivity and impact physical and emotional health. Your ability to deal with it can mean the difference between success and failure.
There are situations that cause stress in every work environment but that doesn't mean being powerless—even when stuck in a problematic situation. Finding ways to manage stress isn't about making huge changes or rethinking career ambitions, but rather about focusing on the things that are within personal control. As stress is controlled, well-being increases.
After employees have taken the assessment, schedule a debrief in the form of one-on-one coaching, a webinar, or an in-company training program. A debrief helps each worker understand their personal stress assessment and provides information on stress reduction techniques. Contact Brandau Power Institute at 770-923-0883 for a free consultation on the type of debrief best for your organization.
The workshop covers:
Interpreting the stress report
Identifying areas of destructive stress and positive stress
Evaluating how stress is affecting your daily interactions and productivity
Determining the elements causing the most stress in the work environment
Reducing the 7 stressors with a variety of tips and techniques
Turning distress into an energizing force
We'd love to speak with you directly. Call 770-923-0883 or fill out the form below and we'll connect very soon.