Earn Separate Certifications: 
Certified & Skilled DISC Analyst and Certified & Skilled Driving Forces Analyst. 
Or get your organization certified: 
Improve leadership skills and teamwork in 2023 and beyond: Bring a Virtual DISC and Driving Forces Certification to your organization.
Next Open Virtual Certification is November 29 and 30, 2023.
Follow up Zoom call on December 8.
Already certified for the DISC? Then certify just for the Driving Forces.  
Prefer an in-company program? Call 770-329-1806 or email Karla@KarlaBrandau.com to reserve dates for a virtual certification for your HR team. 
Why do you need a DISC Certification?
To provide a cost-effective way for your organization to provide individuals with their innate personality and to give individuals the tools to increase inclusion and build harmonious relationships that can boost productivity. 
You will experience amazing results when individuals understand how Dominant, Interactive, Steady and Conscientious individuals interact with each other and how unique combinations of the DISC personalities make it more difficult to effectively diagnose who they are and predict how they will act in any given situation. 
Be more powerful in your training or coaching role in your organization: Become Certified in the DISC AND the Driving Forces. You will be certified to: 
Administer the DISC and Driving Forces profile assessments
Provide insightful DISC and Driving Forces debriefs for team communication and professional development 
Help managers develop into superior leaders
Encourage teams to be more cooperative and collaborative
The DISC and Driving Forces methodology has applications for:
Leadership Development
Management Skills Training
Team Building
 Culture Change Initiatives
Conflict Resolution
Coaching and Mentoring
Diversity and Inclusion Training
Professional Development
Retreats
Sales Training
Customer Service Training
Superior Certification
Don't settle for just a DISC certification. Include the Driving Forces and help your employees (or customers and clients if you are a consultant) see a holistic view of themselves. In this two-day Superior DISC and Driving Forces Certification Program, you will walk away with more than you ever expected in information, instruction, knowledge, supplies, and a camaraderie of support that lasts for years.
The DISC assessment measures your behavioral style or type. DISC is the world's leading behavioral assessment tool. It is a scientifically valid instrument that is used by 1 million people every year. Taking and using the DISC inventory can give you insights into yourself, helps you see inside the minds of others to create clear communication, and learn to accept differences, reduce disagreements, and get things done with others.
When individuals don't understand their Driving Forces, or the motivators hidden deep within, they fail to understand WHY they make the choices they do. Understanding the Driving Forces helps you understand why you are passionate about some issues, why you perceive some things as important and some as way down on the totem pole of significance to you.
Driving Forces are part of our mind-set, our way of perceiving value, our filters and biases which ultimately influence our decisions.  Enlightening is the word used by those who discover the WHY inside of them. 
Why Choose Brandau Power Institute?
Expert Facilitator
Karla is a dynamic and insightful instructor who facilitates your learning in a variety of ways. She is the CEO of Workplace Power Institute and a 25 year-veteran of personality training, professional growth strategies, and leadership development philosophies. She is the author of "How to Earn the Gift of Discretionary Effort." An understanding of the DISC and Driving Forces is a critical element in leadership skills and part of the Earn the Gift Management Certificate. The knowledge helps managers customize conversations for maximum results and helps them become leaders people choose to follow, not have to follow because of their place on the organization chart.
A plethora of Karla's favorite anecdotes and humorous stories reinforce learning. You'll find an engaging and fun atmosphere as she facilitates one-on-one learning certification experiences or facilitates certification classes kept small purposefully, allowing for maximum participation, discussion and Q & A.
TTI Success Insights Assessments
TTI Success Insights is the world's leading source for research-based, validated assessment and coaching tools that enable organizations to effectively meet their talent management needs, using their own researched and patented solutions and products. Their mission is to transform talent into performance for organizations around the globe. We are proud to use their products in this certification process.
Karla Is The Wind Beneath Your Wings 
Karla offers continued support as you navigate the often rough waters of getting individuals to understand themselves and how their behaviors and driving forces affect others negatively by disrupting work, or positively by moving goals toward completion. Karla is available to support you with difficult debriefs. 
You will be provided with all of the resources you need to facilitate both DISC and Driving Forces debriefs with individuals and teams. 
NOTE: Facilitation and training for groups is a separate certification and includes: 
PowerPoint presentations appropriate for managers or team building 
Facilitator notes
Participant materials and exercise worksheets
Group activities that reinforce learning
You are granted the rights to customize and reproduce the materials to suit your needs and maintain your brand.
In this two-day certification program, you are equipped with a comprehensive understanding of DISC Behavioral Styles and of the Driving Forces, or Hidden Motivators.
For the DISC model, we educate you on strengths, limitations, varying intensities, combination styles and adaptation, and on High DISC and Low DISC characteristics.
A driving force is the impetus, power, or energy behind something in motion. Each day, individuals are moved into action by a variety of driving forces. Sometimes the driving forces of individuals collide. This training helps you observe tension, understand why misunderstandings occur, and gives you insights into how to handle the collisions while enhancing team work and collaboration.
With the knowledge you gain, you will have the confidence to apply the DISC and Driving Forces methodology to leadership/management development, team building, conflict and communication. 
Virtual classes are kept small to encourage and allow for personal interaction, sharing of relevant examples, and discussing customized applications. You receive time with Karla during your exam review to gain additional knowledge and discuss implementation strategies.
The training is insightful, engaging, and fun. You will walk away with more in your head than in your hand and you'll have a lot in your hand!
Benefits of Attending this Program
You are a winner in every way when you invest in this program. You add another arrow to your quiver of training skills. With the interpersonal skills you gain, you will gain respect and recognition in your organization. The benefits of attending include:
Learning to expertly administer, interpret, and apply the DISC system

Learning to administer, interpret and apply the Driving Forces methodology

Discovering proven methods to enhance personal and organizational results

Identifying individual strengths, areas for improvement, and job fit
Improving results, relationships and teamwork through respect and effective communication
Understanding the power of utilizing DISC to interview, hire, and promote
Utilizing DISC and Driving Forces to coach and accelerate professional development
Personal Call With Karla
We want you to leave the session having received more than you ever anticipated. To achieve this, after you register, we set up a one-on-one call to understand how you will be implementing DISC and Driving Forces and determine your greatest needs so we can ensure they are covered in the two days. We review the process, discuss the pre-work, and make sure all your questions have been answered.
Pre-Work
In order to spend our time effectively in the in-person class time, after you register and have the initial conversation with Karla, she will give you appropriate pre-work for each session including the specific chapters to read in the Universal Language of DISC and the Driving Forces ebook. You will be given a link to take the TTI Disc and Driving Forces assessment.
Day One – DISC Model Certification 
Welcome to Certification! We spend one day with introductions and a viewing of individual DISC assessments. You are introduced to the resources you will be taking home as well as the materials and agenda for the program.
One week later, you will join a follow up call to answer your personal questions. 
Discussions include:
Definitions of the 8 dimensions of the DISC Insights Wheel
Similarities, differences, and commonalities
Strengths and limitations of each style
Intensities and behavioral combinations
Energy line dilemmas
Out-of-the ordinary graphs
Recognizing styles and adapting for effective communication
Style Interactions – what's important, triggers, and needs
DISC wheel – descriptors and graph placement
Graph Reading and Interpretations
The most common graphs – tendencies, strengths, and limitations
Adaptations – both strategic and reactive
How to help others improve their effectiveness
Homework assignments are made and the session ends. 
Day 2 – Driving Forces  Certification
After a review of the assignments for the DISC model, Day Two is devoted to the Driving Forces. Driving Forces are internal forces that drive your thoughts, feelings and emotions, and thus your choices and actions.
After the first day of training, there is a follow-up call to answer your questions. 
Discussion Topics include: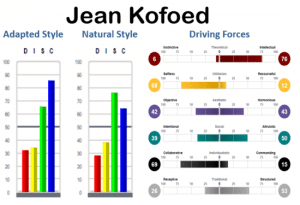 Descriptions of the 6 original motivators and how they morphed into Driving Forces
Exploration of the Driving Forces continuum resulting in 12 characteristics
Recognition of the Driving Forces in team members
How Driving Forces can create tension with the DISC Model
How Driving Forces support the DISC Model
Why Driving Forces matter
Which Wall exercise is included, giving participants a visual experience of the Driving Forces.
To understand the tactical components of certification, you will:
View participant materials, exercises, and worksheets

Learn how to use the TTI Internet Delivery System's set-up function for ordering assessments and reports. 
Learn how to make name tents that include the DISC and Driving Forces

Review the TTI DNA, EQ assessments and additional reports that are available
The DISC and Driving Forces certification exams are open book and open notes. 
Before you take the exam, you are entitled to a call with Karla to go over any principles that may not be clear.
After passing the exams, Karla will book a call with you to congratulate you and your certification certificate will be mailed to you.
This DISC and Driving Forces Certification Program includes over $800.00 in DISC learning materials, including $500.00 for the DISC and Driving Forces Certifications.
You will receive:
Universal Language DISC Reference Manual – Hard copy
12 Driving Forces Reference Manual – available only in digital format
Debrief Guide
Pre-work Assignments
Pre-work Disc and Driving Forces Assessment Reports
DISC Communication Card
Certification exams  (open-book)
DISC and Driving Forces Certification Certificates
Certification logos to put on your website
PowerPoint to train with
Our Commitment to Your Success
To ensure your success on your journey to a DISC and Driving Forces workshop leader and enhanced recognition in your organization, you will receive:
Two additional complimentary DISC profile reports
Percentage off the price of the instruments 
Karla's time to work with you as you include group data for your teams
Access to additional webinars Karla produces
Continued support with the TTI Internet Delivery System (IDS) access and features
Ongoing coaching, advice, and support for your debriefs and training workshops 
Material updates free of charge
Tuition-free attendance for future DISC & Driving Forces workshops or webinars 
What Is My Investment For This Stellar Three-Days of Training?
Invest in your career with this training. Your investment for both certifications is only $2,500.00 which includes $800.00 worth of supplies and certification plus life-time support.
DISC only is $1500.00. 
The Driving Forces is $1000.00
Once certified, you own the certification. It travels with you wherever you go.
Questions? Want to be paid by check or be invoiced? Call 770-923-0883 and ask for Karla Brandau.
We look forward to having you join us in the virtual, cost-effective way to deliver DISC and Driving Forces debriefs and training for your organization.
We'd love to speak with you directly. Call 770-923-0883 or fill out the form below and we'll connect very soon.