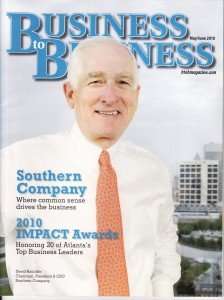 Yesterday I attended a breakfast meeting sponsored by Business to Business. The speaker was David Ratcliffe, Chairman, President & CEO of Southern Company headquartered in Atlanta, Georgia.
Two things impressed me about Ratcliffe. First, he was very complimentary of his employees. He complimented his employees several times on their abilities and talents. His genuine admiration of his employee's work in making Southern Company emerge as a leader in the energy field was impressive.
In my consulting experience, praise of the workforce and authentic respect for what employees collectively achieve is paramount for success.
Second, I liked his "common sense" message. Often we collect data, analyze, project, slice and dice but forget to use common sense. His common sense approach has kept Southern Company moving forward despite rising costs, increasing demands for energy, an aging work force, environmental obligations and a growing global energy crisis. The complexity of our work world definitely demands common sense. Are you applying that in your organization?
For more information and to access the May/June 2010 issue of Business to Business Magazine, visit www.btobmagazine.com.