Regardless of where you plan your retreat or what activities you plan, ensure you have exceptional learning by hiring Karla Brandau for a customized presentation.
Communication and understanding is increased as attendees share experiences and insights.
If you are looking for a leadership or team building retreat that actually builds camaraderie and facilitates personal growth, look no further.
Many corporate team building retreats resemble a grown up playground and when "recess" is over, there are no connections to real team projects and problems.
Karla believes in having fun…with a results mindset.
She works with you to achieve the exact results you desire from her team building activities. Her Brandau Power Institute programs are are perfect for restructuring & revitalizing teams, getting them up to speed, planning a go-to-market strategy, product launch, or major initiative roll-outs.
Whether you want to celebrate company or team victories, build trust, boost morale or get to know each other, Brandau Power Institute's programs help attendees:
Increase commitment to organizational initiatives
Increase communication and trust between managers and team members
Create more than a superficial level of communication
Popular Brandau Power Programs
Discretionary Effort Leadership: Move Employees from Minimal Effort to Amazing Contributions
Discretionary Effort is the difference between the level of effort, creativity, and problem solving one is capable of bringing to a task, versus the minimum effort required to just get by or make do, and still receive a paycheck.
The gift of discretionary effort is earned by managers who know how to maximize the touch points with employees and build an exceptional employee experience as they extend human dignity and respect, show empathy and concern for the well-being of the employee, focus on the strengths of the employee, and inspire the employee to be an authentic contributor and partner in making the organization competitive in the marketplace.
This retreat put executive teams in the driver's seat to drive innovation and company growth with powerful discretionary effort principles.
Rational Alignment: Get Scattered Individuals Rowing in the Same Direction
Success in today's chaotic marketplace demands workers throughout the organization are focused on making company goals a reality.
Once your company spends the time, effort and money to discuss and decide your values, vision, mission and major goals that con propel the company forward, the next hurdle you as the leadership team must overcome is how to cascade the message to all employees in a way that deepens the emotional commitment and the ability to work every day on tasks that increases market share.
The Leadership of One: Confidence and Charisma
Develop your charisma and people will want to follow you. They will want to be part of your team and they will be influenced by your opinions and suggestions.
You will become the leader they CHOOSE to follow, not HAVE to follow because of your place on the organizational chart.
Each person is born ethnocentric, or believing that other people and events revolve around them which is true for the first few years of a child's life. The focus of activity for a growing child is inward. Successful people, who want to have the power of persuasion, turn their circle of activity and interest outward and develop what is recognized as charisma.
Bring this program to your retreat and each attendees will learn the secrets of confidence and charisma enabling them to build dynamic teams and influence colleagues as they become  Discretionary Effort Leaders.
Exceptional Interpersonal Relationships: DISC and Driving Forces Retreat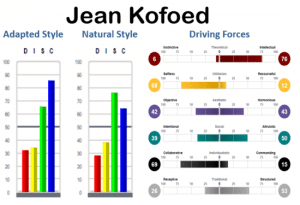 When you react in predictable ways, do you wonder why? Do you ever feel like you are a stranger to yourself? Do you wonder why you can easily relate to some co-workers and why it seems impossible to have a civil conversation with others?
This DISC and Driving Forces Retreat, Seeing Others with 20/20 Vision, answers these questions and helps participants evaluate their personal behaviors and others' behaviors from a variety of perceptions and viewing points.
Participants learn to value the diversity of personality while building skills to make subtle changes in their behaviors, enabling them to expand their personal influence. In an entertaining environment, participants unravel the complexity of human relationships and gain confidence in interpersonal relationships as they learn how to identify innate personality, turn difficult people into positive players, respect and utilize individual differences, and capitalize on individual strengths.
This retreat comes complete with a DISC and Driving Forces profile, an online personality assessment that helps people know if they operate as Dominant Producer, a Influential Promoter, a Steady Peacekeeper, or a Conscientious Planner. 
The assessment and the activities built into the team building workshop will make your corporate team building retreat a smashing success.
Mega Activity: Working for the Soaring Design Research Center
Participants work in the hierarchical, authoritarian environment of the Soaring Design Research Center and are assigned to a specific function: tails, wings, fuselage, assembly, etc.  They have a quota of airplanes for the day and must follow strict rules. When production quotas are not met, reorganization takes place.
In the reorganization, the participants are divided into teams, insuring that each team has people from each area of expertise. They are permitted to make their own production goals, pick a team name, and a team logo. The rules are replaced with mission statement. The entire atmosphere changes as every team member is engaged in reaching their goals.
Participants are delighted when the paper airplanes actually fly. The activity is completed with prizes for the best flying planes.
Mega Activity: Bugatronics
In this team building activity, Bugatronics, participants are divided into teams and they compete to put their division of the Bugatronics factory on top. They design the "Bugaboos," write a TV commercial and design a billboard ad. The teams are judged on the quantity of Bugaboos made, the quality of their billboard and the entertainment value of their TV commercial which is performed live at the end of the activity.
The magic of the activity is how hidden talents surface. As participants design bugaboos, make TV commercials and design bill boards, hidden music and art talents emerge in addition to organization and leadership skills.
Prizes are awarded in several categories.
Bring one of these high energy, high value programs to your company.
We'd love to speak with you directly. Call 770-923-0883 or fill out the form below and we'll connect very soon.