When you react in predictable ways, do you wonder why? Do you ever feel like you are a stranger to yourself? Do you wonder why you can easily relate to some co-workers and why it seems impossible to have a civil conversation with others?
Take the Puzzle Out of Personality 
uses the DISC assessment to answer these questions and helps participants evaluate their personal behaviors and others' behaviors from a variety of perceptions and viewing points.
Participants learn to value the diversity of personality while building skills to make subtle changes in their behaviors, enabling them to expand their personal influence.
In an entertaining way, participants unravel the complexity of human relationships and gain confidence in interpersonal relationships as they learn how to:
Identify innate personality
Turn difficult people into positive players
Respect and utilize individual differences
Capitalize on individual strengths
Comments from a recent DISC Team Building Session
These are the comments after a recent team building session conducted by Karla Brandau using the DISC model entitled, Seeing Others with 20/20 Vision: 
Brandau did a wonderful job presenting the information about the importance of knowing yourself, but she also drove home the importance of identifying the personality of others in order to help them to be successful.
Excellent activities.
Perfect !
Karla's entire presentation was very insightful. She definitely needs to be a mainstay at future retreats.
Perfect start of enhancing leadership skills is to first know where you are, your strength and weaknesses with room for growth.
Most insightful information I have received in a long time.
Very informative
Fun, perfect high energy! Love that everyone was engaged and relaxed…
Very helpful in understanding personalities
Take the Puzzle out of Human Behavior
Taken online, a TTI Trimetrix DISC and Driving Forces assessment is given to participants before they attend the program. Each participant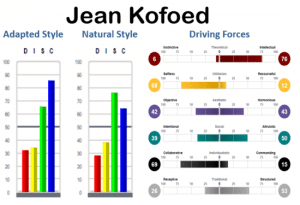 receives a graphical representation of their personality mix in a 6×4 picture frame to display on their desk, enabling lively discussion and permitting
This personality indicator divides individuals into four different personality preferences and color codes them for easy reference.  The results of the assessment combined with the instruction provides a strong basis for self-evaluation and helps participants take the puzzle out of the behaviors of their coworkers.
Participants learn how to flex their personal style to relate better to "different" individuals. Some of the differences in innate personal preferences explored are:
Logic vs. emotion
Directness vs. subtlety
Results vs. process orientation
"Get it done now" vs. "Get is done right"
Intensity vs. steadiness
Verbose vs. succinct verbal skills
Understanding of the principles taught is cemented while cooperation and teamwork increase with the interactive activities: "Flex Your Style," "Build the Tallest Tower" and "The Zin Obelisk".
This program makes an outstanding team building retreat.
Call 770-923-0883 to ask about Karla's availability for your next program. She can consult with you on bringing the TTI DISC assessment to your entire organization.
We'd love to speak with you directly. Call 770-923-0883 or fill out the form below and we'll connect very soon.